Internet Kiosk -Touch Screen Kiosk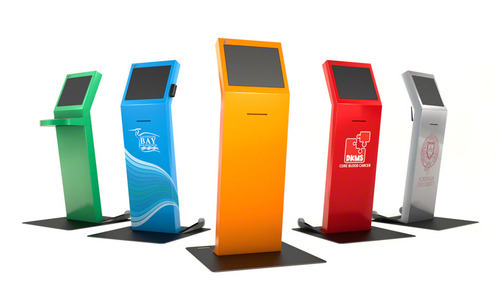 Product Description
We Elpro Technologies one of the Bigger and leading Touchscreen Kiosk manufacturer in India, Elpro Technologies Kiosk the First Internet Kiosk in INDIA
An Internet kiosk is a terminal that provides public Internet access. Internet kiosks sometimes resemble telephone booths, and are typically placed in settings such as hotel lobbies, long-term care facilities, medical waiting rooms, apartment complex offices, or airports for fast access to e-mail or web pages. Internet kiosks sometimes have a bill acceptor or a credit card swipe, and nearly always have a computer keyboard, a mouse (or a fixed trackball which is more robust), and a monitor.


Some Internet kiosks are based on a payment model similar to vending machines or Internet café, while others are free. A common arrangement with pay-for-use kiosks has the owner of the Internet kiosk enter into a partnership with the owner of its location, paying either a flat rate for rental of the floor space or a percentage of the monthly revenue generated by the machine.


Internet kiosks have been the subject of hacker activity. Hackers will download spyware and catch user activity via keystroke logging. Other hackers have installed hardware keystroke logging devices that capture user activity.
Businesses that provide Internet kiosks are encouraged to use special Internet kiosk software and management procedures to reduce exposure to liability.

Touch Screen Kiosk
Specification and Features Are Customized
Minimum Order Quantity: 1 Piece(s)

Other Information
Minimum Order Quantity: 1 Unit(s)
Other Products in 'Information Kiosk' category
No.32, Muneshwara B-Block, Mattadahalli R.T. Nagar Post, Bengaluru - 560032, Karnataka, India
Phone :+918037744802
Mr Ghani Khan (Marketing Manager)
Mobile :918037744802